As part of our ESG commitments and journey towards net zero, we are endeavouring to learn more about how we can become more sustainable as a business and also ensure we're able to deliver truly healthy and sustainable workplace environments for our clients, and inspire them to play their part in supporting the UK's journey to net zero too.
An important part of our journey is educating our team to make sure we get all partners, from site managers to the finance team, personally engaged in our sustainability efforts. With this in mind, last week some of our management team headed off to Kenny Waste Management for a tour of its Material Reclamation Facility in Manchester to learn more about what the company does for us.
It's no secret that construction is one of the most significant producers of waste of any industry. In fact, according to the Department for Environment, Food and Rural Affairs, construction, demolition and excavation accounted for around 62% of the UK's total waste in 2018. Unfortunately, we aren't able to do what we do without creating some waste, so it's crucial for us that we do everything possible to reduce, recycle and reuse, and ultimately minimise our waste-to-landfill. And we do that with the help of Kenny Waste Management.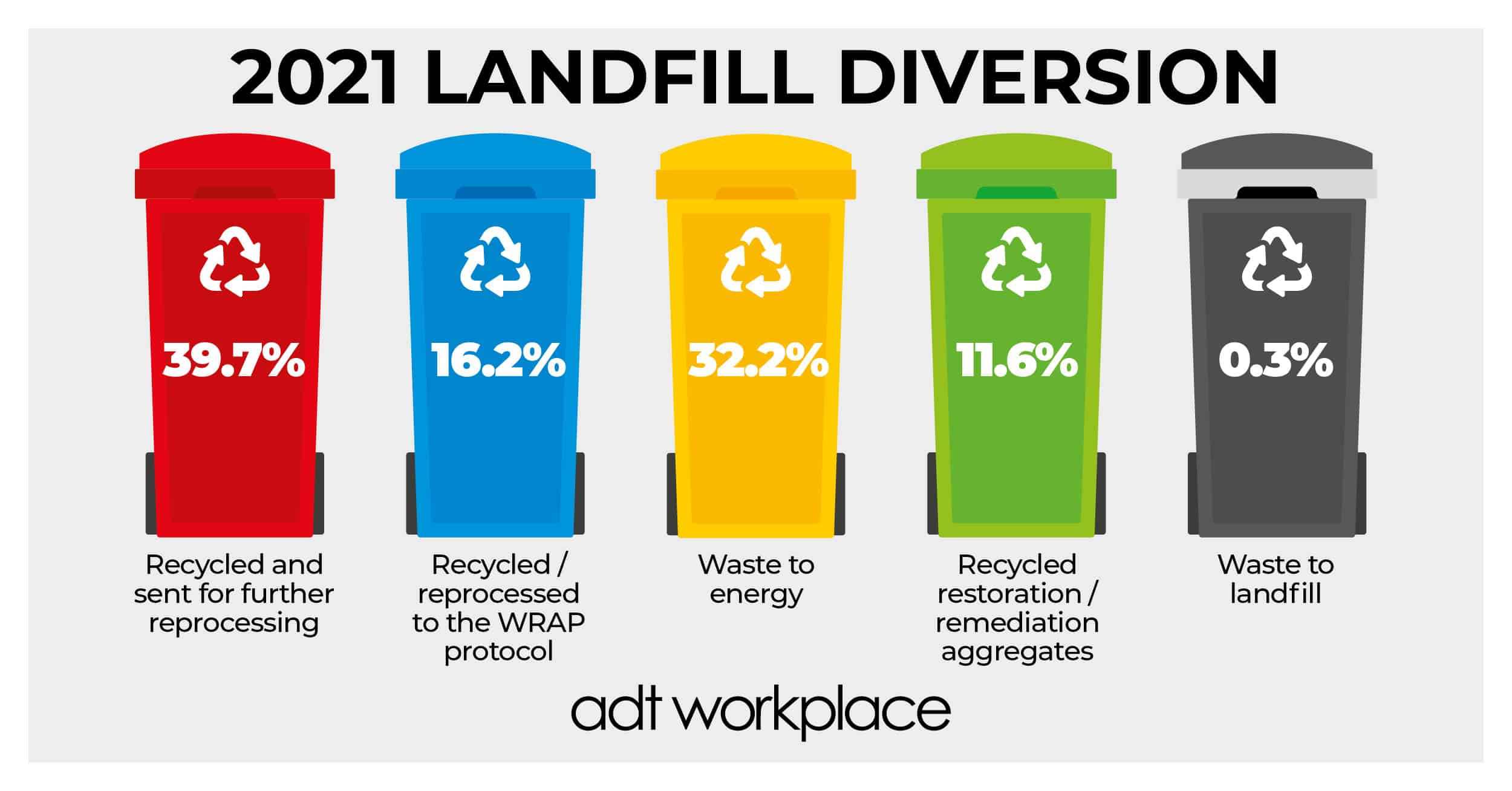 Based not far from our head office in Manchester, Kenny Waste Management was created in the early 2000s out of Kenny Skip Hire and has developed into a total waste management provider, which now processes over 180,000 tonnes of waste each year at its Material Reclamation Facility.
When it arrives at the facility, the waste is weighed and then methodically separated via a network of machinery and site workers before it is either reused or recycled. Materials such glass and plastic, are kept for the reuse in other products. Waste such as wood, is split by grade and then recycled via a third party into items such as pet bedding, or goes to biomass. This is the key to reducing waste which can potentially end up in landfills. Currently 99% of the waste processed at the Material Reclamation Facility is recovered and recycled, with the team continually looking at new ways to make this 100%.
For us, Kenny Waste Management simplifies waste disposal, ensuring all waste created from our sites across the country is dealt with efficiently and as sustainably as possible, and that we are fully compliant with all current waste disposal legislation. We are then able to use our detailed waste reports (skip by skip), carbon reports, and transparent audit trail to accurately report on waste across all our projects, for our business as a whole and individual projects.
As a commercial interior design, build and delivery specialist, we recognise the opportunity and responsibility we have as a business to make a positive impact in the world through our work. While effective waste management is just one small step and our journey will continue to evolve, we are proud to be tackling this issue head on and making continuous progress in becoming a more sustainable business, and playing our role in the UK's journey to net zero.