Make your
workplace
intelligent
Award winning design and build
What makes an
intelligent office design?
Your people, your processes, the property around you and your technology platform all play an important role in your office design. Understanding and balancing these four elements is the key to creating an intelligent workplace.
Whatever your priorities may be, whether it's employee wellbeing, improving productivity and collaboration, creating a sustainable office or attracting and retaining talent, our team will collaborate with you to create an office which meets all of your current needs as well as future aspirations.
The average worker spends almost 13 days a year commuting.

Is your office worth the commute?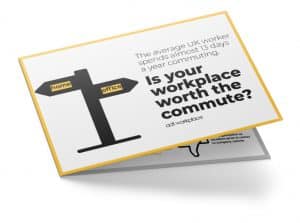 What are your business challenges?
Find out how we can help with your office design